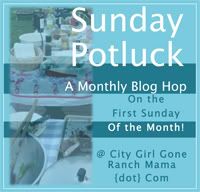 Welcome to the Sunday Potluck! I'm your host, Ranch Mama.
I'm a Mama who blogs about my crazy life living on a guest ranch in Montana.
I love boots.
I hate to go barefoot.
I'm a Giants fan.
I love to take pictures.
Please come and look around!
Feel free to link up your blog and if you're new around here, let us know!
Sunday Potluck
is a chance to link up your blog, visit other blogs and make new friends!
A Word From The Management:
2. Link your blog's main page, not a specific post.
3. Visit as many new blogs as you can and leave some comment love.
Let people know if you are a new follower!
4. Be nice! We are all in the Blog World for our own reasons! But we all want support, "If you can't say something nice, don't." Be constructive! Thanks!
5. Post the badge on your blog!